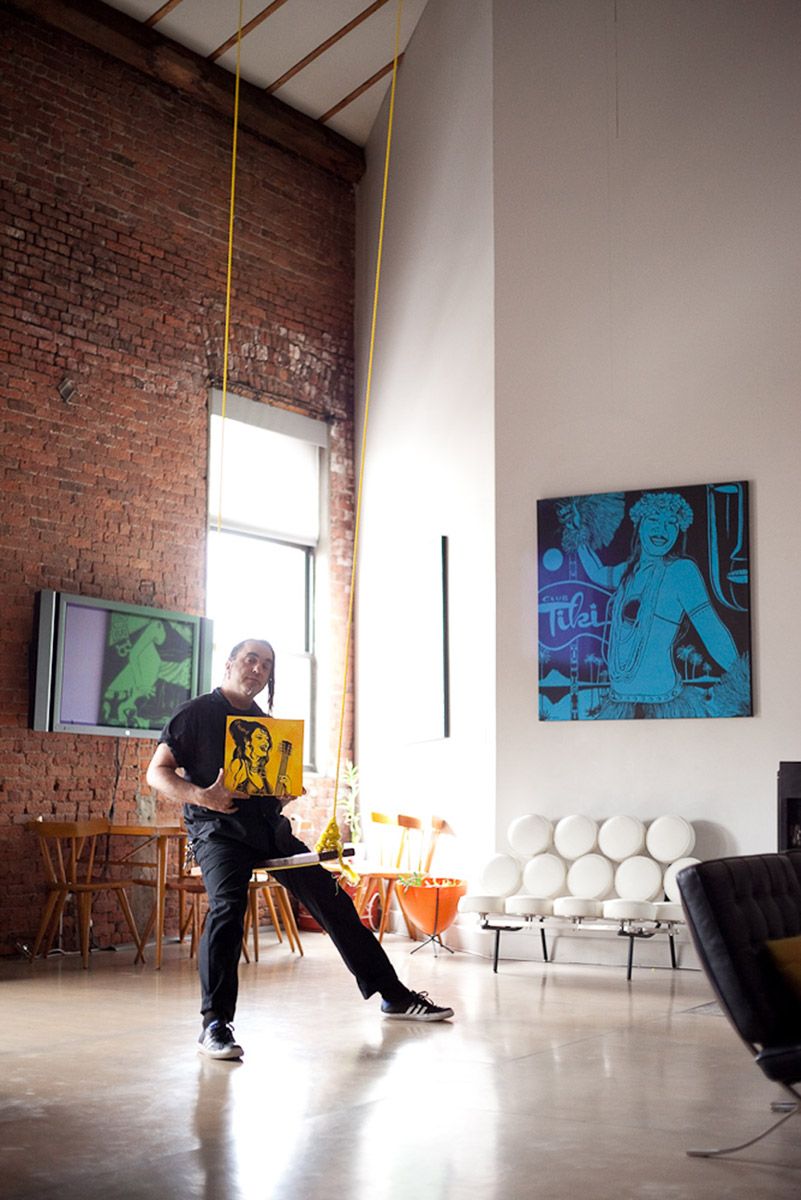 FOR ALMOST THE LAST DECADE, Robert Piersanti has he has been painting fulll time, having shows everywhere from Manhattan to Jersey City to Miami to Milan, Italy. His commercail work can be seen in the New Yorker Magazine as well on some CD packaging and book jackets.
FORMERLY KNOWN for his editorial illustrations, Jersey City artist Robert Piersanti had his breakthrough gig with Entertainment Weekly, followed by regular spots for Smart Money, Musician, Guitar World, New York Magazine, New York Daily News, New York Press, and various other publications. Additional work followed, with book and CD covers, advertising assignments, radio station promotional art, and television storyboards.
BORN IN NEW BRUNSWICK, this Jersey lifer grew up in South River at the tail end of the baby boom. During his childhood, Piersanti became fascinated by homegrown South River characters on society's fringe, including liquid-lunch legend "Steady Eddie," newsstand proprietor Maurice (known as "Poon," because of his palsied right side), first-generation hippy "Pickles," and other local undesirables such as "Freida" and Aqualung." While its main distinction was having more taverns per capita than any other New Jersey town, South River 's once-thriving Main Street instilled in Piersanti a lifelong love of disregarded commercial imagery. This busy thoroughfare boasted family-owned luncheonettes, dry goods and candy stores, a large newsstand, and a Ben Franklin "five and dime" variety store, which is still in business. The jewel of the avenue was the magnificent Capitol Theatre, built during the height of 1920s prosperity, but by then in steep decline (and soon converted into a dreary clothing factory). This old movie palace was a wondrous place to catch the films of the day, including A Hard Day's Night, Help!, The Great Race, or the current James Bond entry. (To cash in on the popular 1966-67 Batman television series, one matinee program was devoted to vintage 1940s serials featuring a decidedly low budget and flabby caped crusader.) The Capitol's proprietor and ticket collector was a 350-lb mountain of a man, "Tiny," often accompanied by his equally immense wife and their round small-scale progeny. Tiny remained seated, ex- cept for periodic flashlight aisle patrols to snare candy-throwing juvenile delinquents. Another important local attraction was Stan's Bike and Hobby Shop, which offered butterfly handle bars, slick tires, and banana seats to customize your bike, as well as monster and car model kits, Rat Fink decals, miniature Matchbox cars, and metal-flame enamel paint. In Stan's basement, for an hourly fee, you could spend the afternoon racing your slot car on his huge multi-level track.
YOUNG ROBERT earned his expendable income from return-for-deposit soda bottles, running errands, or simply by pestering his mother until she gave him a quarter to get rid of him. This capital was then invested in flicker rings, models, trading cards, comic books, 45-rpm singles, and the infinite treasures trapped inside coin operated vending machines (in short, much of what can be found in the artist's studio today). Judging from his most recent work, the mid-20th century pop culture iconography of his youth remains a strong influence.
Piersanti bio from Weird New Jersey Magazine, Written by Greg Sadowski 2003